Company is making holographic technology more accessible, bringing the tech to Seattle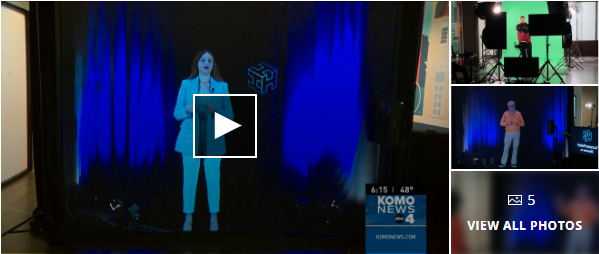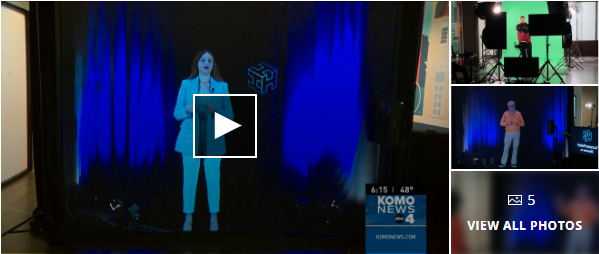 The pandemic made Zoom the lead technology for virtual meetings and events.
ARHT Media, a technology company based in Canada, is hoping Hologram technology will be next up, working to make them more accessible for everyone.
They say without boarding a plane or driving a car, hologram technology allows a person to appear in any location to both in-person and remote audiences.
Larry O'Reilly, CEO of ARHT Media, says people have primarily used the tech for big events like weddings and conferences.
"We've had event planners who say, 'This is the 23rd year we're having our sales launch, and we need something new and fresh and exciting,' so we'll say what if you brought in a speaker from Hong Kong to Seattle?" O'Reilly said. "And they don't even have to be there. They can be a hologram and interact."
He says they were inspired after the late rapper Tupac made a surprise hologram appearance at Coachella Music Festival in 2012. The audience was stunned a person who had passed away could appear so real, so life-like, right in front of their eyes.
Here's how the technology works: someone stands in front of a green screen and in under three seconds, they are "transported" to a different place at the same time. Cameras capture the person in 3D, and project their hologram onto a screen.
ARHT Media is working to make holograms widely available. So far, they've installed studios in over 15 WeWork sites around the country. Seattle's South Lake Union location is one the newest.
"We've already had very important people from Seattle come into the WeWork, and we beamed them to Oxford University for an event," O'Reilly said.
If you're a WeWork member, the starting price for a hologram is about $3,500 dollars. Eventually, ARHT Media would like to make it affordable for everyone.