Huawei Fit Watch: Full Texture Upgrade
To smart wearable devices, the difference between a smartwatch and a smart armband is not that big, but the difference in temperament on the wrist can be huge. Smartwatches have evolved to the point where they have surpassed traditional watches in terms of functionality. Recently, Huawei launched the HUAWEI FIT WATCH Elegant, the first new member of the Huawei family of lightweight square-shaped smartwatches.
As the name suggests, it takes into account the rich variety of colors and offers a new body and strap material for consumers to choose from. Whether you want to wear her to a formal business occasion or as an exclusive fashion accessory in everyday life, she is ready to do the job successfully. In this article, you will learn more about the real-life experiences of this smartwatch that bids farewell to simple geeky style.
The Design: Technology With Aesthetics
The Huawei FIT WATCH features a unique aspect ratio and elegant looks with excellent visual recognisability, with ultra-narrow bezels and a dazzling color screen that offers a smartphone-like interactive experience that is easy to control and presents important information simply. It features a large 1.64-inch square AMOLED display with 456*286 pixels and 326 PPI that supports 16.7 million colors in full color and has a screen-to-body ratio of 70%.
The surface of the screen is covered with precision-cut glass to create a 2.5D curve that creates a subtle play of light and shadow when you hold up your hand. The Huawei FIT WATCH supports the Dial Market function, which offers more than 400 different styles of beautiful dials. You can also set your phone photo as a watch face to personalize it and bring the beauty of your life to your wrist.
It comes in 4 different colors - Fresh Mint Green, Elegant Cherry Blossom Pink, Passionate Melon Orange, and Mysterious Obsidian Black - with a brushed metal frame that you can mix and match however you like. I chose the Obsidian Black colorway which is very simple and clean and the watch is very versatile no matter what the occasion.
Training Function
One of my favorite features of the Huawei FIT WATCH is the video animation demonstration. Young people today are paying more and more attention to body management, with fat loss, muscle building, and shaping being among the important tasks. It's not easy to break the hustle and bustle of life and work to maintain a regular fitness routine. But Huawei WATCH FIT can help you get a scientific and effective workout quickly, so you can use your fragmented time and start scientific fitness anytime, anywhere.
The Huawei FIT WATCH animated personal fitness trainer has 12 built-in animated fitness classes with 44 standard fitness moves for office and home use. Select the desired training mode and enter the animated video demonstration mode. You don't have to stick to time and space, you can have a scientific and effective workout over a cup of tea.
The 12 animated fitness classes cover a wide range of topics such as: Such as waking up the sedentary body, relieving the neck and shoulders in the office, resting exercises in the office, stretching and relaxation, efficient fat burning, abdominal exercises, strengthening the chest muscles, flat stomach and 12 other types of exercises, so that you can enjoy anytime, anywhere Be able to exercise according to your needs and have energy throughout the day.
During training, users can tap an action to preview the details of the action or switch to other actions using the left and right arrow icons on the touchscreen. In addition, you can check the heart rate value, heart rate zone, calorie consumption, and exercise time during and after exercise via the watch and the Huawei Sports Health app.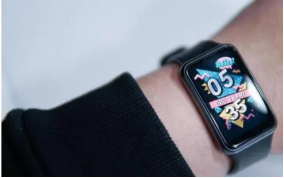 Summary
Huawei Fit Watch, after a week or so of hands-on experience, I am very satisfied with the overall performance of the product, in terms of the overall appearance, screen, battery life experience, health monitoring management, sports mode, and cooperation with the phone, etc. have made a qualitative leap, or highly recommended to everyone. Whether it's the design, wearability, or features, the Huawei fit new has a lot going for it.