Huawei MateBook X Pro (2021) Review: Excellent and Powerful MateBook
Are you looking to buy a new laptop? Then the Huawei MateBook X Pro might be a great option. While the public perception is that Huawei is focusing on the smartphone, Huawei also has many excellent laptops on sale. The Huawei MateBook X Pro is a powerful laptop that appeals to fans of the brand and laptop buyers in general. It offers great performance and a range of features that make it a desirable option. The build quality is also excellent, making it a good choice for business users. If you are interested in learning more about the Huawei MateBook X Pro, keep reading, we will take a closer look at this laptop in this review.
Design

and Display
Huawei Matebook X Pro features a metal minimalist design with an overall CNC drilling process. It is only 14.6mm thick and weighs only 1.33Kg, and is available in two classic colors: Space Gray and Emerald Green. Through the industry's top structural design capabilities, HUAWEI MateBook X Pro achieves a screen-to-body ratio of up to 91%. Huawei Matebook X Pro introduces the LTPS HD screen for the first time in the cell phone industry, which has low power consumption while ensuring the display effect.
The screen is 13.9 inches in size and features an LTPS LCD panel with a 60 Hz refresh rate. The large, high-resolution screen is perfect for work or play, and the optional configuration of 3000 x 2000 pixels makes it even more impressive. The touch screen feature is a huge plus, as it makes navigation easy and user-friendly. The glossy coating on the screen is also beneficial, as it helps to reduce reflections. Additionally, the light and dark contrast of 1500:1 ensures that you'll always be able to see what you're doing. Finally, the sRGB color space 100% and DCI-P3 color gamut 74% provide accurate colors that are perfect for creative work or gaming.
Functions
The Huawei MateBook X Pro 2021 is a powerful notebook that is perfect for any user looking for a fast and reliable machine. The notebook comes equipped with 16GB of memory, making it a great option for users who need a lot of power and speed. The notebook also has a 1 TB SSD, providing ample storage space for all of your files.
The MateBook X Pro is powered by an 11th generation Intel Core i7, and Intel Iris Xe Graphics, providing excellent performance for creative work, gaming, and other resource-intensive tasks. The Huawei MateBook X Pro also features a fingerprint recognition button and a hidden camera. Four speakers create stereo surround sound. The dual-microphone design makes for better sound quality.
The Huawei MateBook X Pro also has excellent cooling capabilities. the MateBook X Pro comes with a shark fin dual fan cooling system with a dual fan design, which increases the cooling efficiency of the whole machine that helps to keep the laptop cool, even when performing resource-intensive tasks.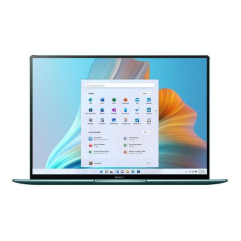 Verdict
Overall, The Huawei MateBook X Pro is a great device that has many features that make it a powerful laptop. Its design and construction are excellent, and its performance is top-notch. It is also one of the most affordable laptops on the market with these features. If you're looking for an excellent laptop that does not break the bank, the huawei MatebookX pro should be at the top of your list. We highly recommend this device to anyone in the market for a new laptop.